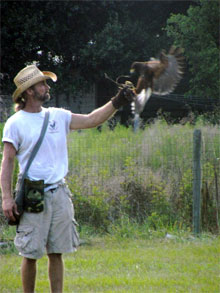 Hello, I am Justin Matthews, Master Falconer and Wildlife Rescuer
I Was born in Manatee county. From a very young age I had an interest in anything wild, and was always bringing home snakes, lizards, frogs, etc. I kept them for a while and then let them go. I was always reading about reptiles and other wildlife, so at a very young age I was fairly knowledgeable, so at the age of 13 I was doing wildlife presentations at my middle school. By 15 I started volunteering at a wildlife rehab center, and that is where I met Tom Muholland, a licensed master falconer. He spent a lot of time teaching me all he knew about falconry. At 16 I got my permit and have been a falconer ever since. I am now a master falconer. My presentations lasted thru high school. Ever since then I have been a wildlife rescuer and educator, forming Matthews Wildlife Rescue in 2000.
I have become very well known throughout the state. I had done wildlife presentations for 4 years at Mixon Fruit Farms and Linger Lodge in Bradenton, FL. I now have a master falconer permit, as well as permits for conditional, poisonous reptiles, alligator, permits for mammals and wildlife educational permits. I am the busiest wildlife rescuer in Manatee and Sarasota counties. I make sure each animal I rescue goes to the right wildlife rehabilitator.
Even though we do rescue wildlife, we firmly believe that you save more animals through education, and we educate by conducting up-close presentations at birthday parties, special events, schools and wherever we are requested to go. We of course, do charge a fee for presentations and we accept donations and offer animal adoptions to help feed the animals. We provide rescues at no charge. We offer a thrilling falconry presentation called "a hawk for the bush". This is where you can actually go on a falconry demo in Florida woods and watch a falconer's trained bird hunt his natural prey.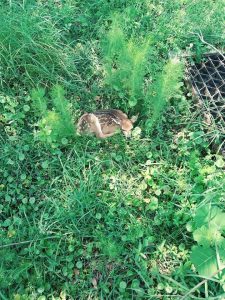 If you have a wildlife rescue, nuisance wildlife removal, interested in presentations or if you have a question concerning wildlife, please contact us. We also offer wildlife presentations for parties and special events. For more info call – 941-822-3272.
Abandoned Fawns
Just want to remind everyone that if you see a fawn leave it alone. The fawn has no scent so the mom doesn't stay around her baby very long, just to feed or relocate the fawn. She does this so her scent will not give up the babies location to predators. If you see a fawn one day and it's still in the same spot next day, or the fawn looks sick or injured, then it's time to call me. I get at least one call everyday about this. PLEASE SHARE!